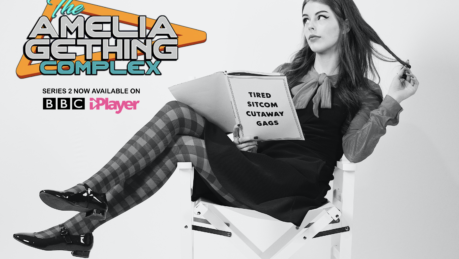 The Amelia Gething Complex, produced by BBC Children's Productions Ltd., will return for eight more episodes on March 19th, 2021 on BBC iPlayer, followed by a release in April on BBC Two.
The surreal teen comedy, which incorporates sitcom elements, is fronted by social media star Amelia Gething.
Timeline North, based in MediaCityUK, provided on-location edit facilities at Manchester Studios and a mix of remote and local post-production for series 2 of The Amelia Gething Complex, assisted by in-house drama assistant editor, Becca Nield.
The Director for the series is Vicki Kisner, Series Producer is Graham Davies, Executive Producer is Sid Cole and the show is line produced by Samantha Milnes.
Timeline North's technical team fronted by Chris Mann, created a remote post-production workflow to work around Covid restrictions. Allowing the offline editor to complete the offline and fine cut from home, streaming the Avid output to the Producer either at home or in Timeline's post facility.
In addition to the offline and fine cut, the Grade was also conducted remotely by Ollie Kenchington, using DaVinci Resolve 15.
VFX was done remotely by Lynn Tidsey of Tidsey Graphics, working closely with Timeline North's in-house online editor Ross McAdam to refine the 8 episodes featuring complex visual effects and graphics.
'The online this year was a lot of fun. The effects are even more ambitious than series 1 and I'm excited for everyone to see it.'  Comments in-house editor Ross McAdam.
Post production culminated in full CDO Delivery to BBC and was post supervised by Charlotte Bell and Chris Mann.
Find out more about our Post Production services.