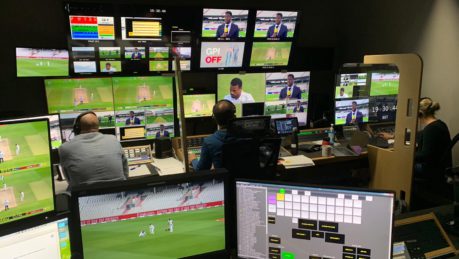 Whisper has successfully won two cricket contracts with BBC and with the England and Wales Cricket board (ECB).
The first, with the BBC, sees Whisper deliver the broadcaster's peak-time cricket highlights, as the sport returned to BBC TV on Wednesday 8 July, for the first time in over 20 years! The multi-year contract includes TV highlights for domestic Test matches, ODI matches and T20s matches from Summer 2020.
Separately, Whisper is also delivering a range of online highlights and clips for the England and Wales Cricket Board (ECB) throughout 2020. This includes all Tests, ODIs and T20s across both men and women's international teams.
Timeline is thrilled to be supporting Whisper with technical facilities from its Ealing Broadcast Centre including a large production gallery to allow social distancing and safe working conditions for crew and also utilising a number of flexible production pods for a mixture of edit suites, EVS, IP Director, Hawk-Eye and logging staff.
Timeline's Ealing Broadcast Centre benefits from extensive connectivity including multiple BT Tower Lines, TATA circuits and is now connected to the NEP Connect Anylive network, with remote video and audio feeds from the ground being sent back and mixed in the gallery. Return feeds to the commentators and presenters are also being sent via the Anylive network.
CTV are providing the host OB for Sky Sports and supplying BBC with presentation cameras and commentary facilities.
Hawk-Eye and Alston Elliott Graphics have operators on-site at Timeline's Ealing gallery and are controlling equipment at the cricket grounds.
A huge amount of planning went into the production led by Andy Underhill from BBC Sport and Jon Fay at Whisper and has led to a seamless workflow for the production team on-site and working remotely from Timeline Ealing.
Find out more about Timeline's Remote Production facilities and Ealing Broadcast Centre.