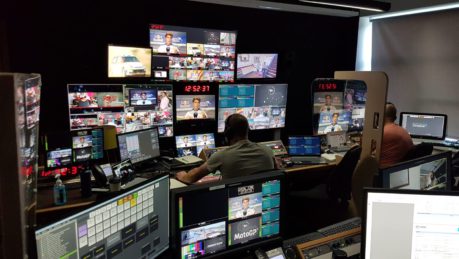 MotoGP racing resumed on 19 July 2020 and Timeline is excited to be working with North One to bring the races and presentation coverage live to BT Sport 2.
A revised calendar of 13 European races has been confirmed, with two potential flyaways to be added at the end of the year.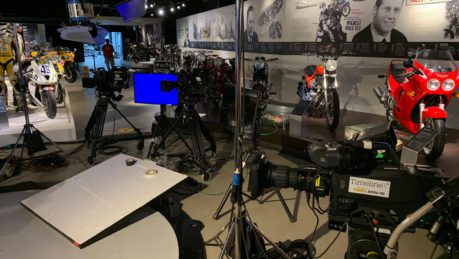 Timeline's RF truck, RF2, and a two-man engineering team are based at the Triumph Factory Visitor Experience in Hinckley, Leicester. This outside broadcast is providing 4-camera presentation and commentary working via satellite to a socially-distanced production and engineering team in Timeline's Ealing Broadcast Centre gallery.
World coverage from the race outside broadcast in Jerez, Spain is brought into Timeline Ealing via TATA fibre and combined with the Hinckley outside broadcast feeds to form the output to BT Sport 2.  Working in Timeline's Ealing gallery are a Producer, Director, Resource Manager, Vision and Sound crew whilst 2 EVS operators, a PA and all remaining production staff are working remotely.
Find out more about our Ealing Broadcast Centre or Remote Production.