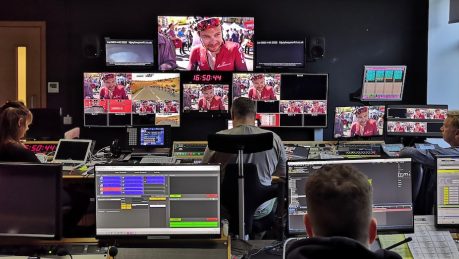 Timeline is delighted to continue its well-established working relationship with Vsquared TV, bringing La Vuelta a España to ITV4 for the eighth year running.
Timeline is on hand to provide tight-turnaround editing and playout services for Vsquared TV's highlights show.
The live feed is downlinked via our 3m satellite dish and commentators are based in our VO booth. The highlights show is then cut together throughout the day in our edit suites while the programme is introduced and linked from our presentation studio.
In addition, 2019 sees the introduction of Timeline's VR studio, a brand new home for the presenters Gary Imlach and David Millar.
The result is a complete in-house production at our Ealing Broadcast Centre with the programme being played out live to air each evening on ITV4.
Watch it: La Vuelta a España Highlights Show airs on ITV4 every evening from Saturday 24th August through to Sunday 15th September.