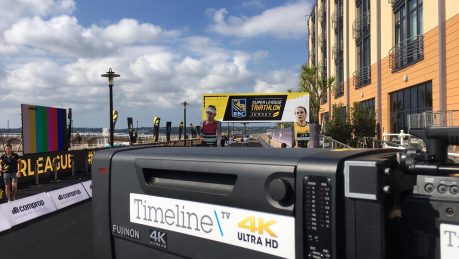 We're thrilled to be in Jersey this weekend for the Super League Triathlon (SLT) with Sunset+Vine.
Super League Triathlon features the best 50 triathletes in the world selected using a qualification system that rewards the best performances and offers new talent the chance to compete at the highest level. The unique SLT formats are condensed, unpredictable and challenging, requiring athletes to race hard, think smart and constantly fight for the win to score valuable SLT points.
Timeline is delighted to be providing all of the outside-broadcast and RF services for 2 separate live feeds (World Broadcast and Internet Streamed), as produced by Sunset+Vine.
Timeline's outside-broadcast truck, OB16, will be on site producing the live feeds with 15 cameras, 16 channels of EVS, Calrec Artemis mixing desk and integrated 2+1 uplink. 
Timeline's Replay 1 will provide additional digital production space and monitoring for the stream feeds and foreign Broadcaster Commentary positions. 
Utilising one of its many flyaway RF systems, Timeline will also provide a live drone mounted camera, 1 motorcycle-based handheld camera working along the whole course on a terrestrially-received network, 4 standard radio cameras and a boat-mounted polecam system.
Find out more about our outside broadcast and RF Services.