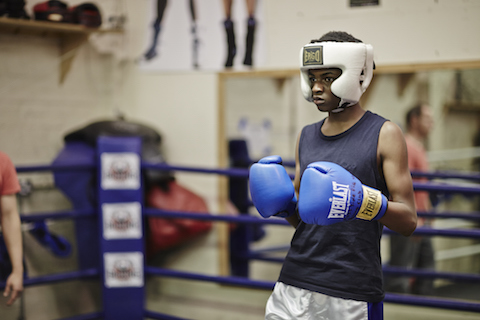 The 15-minute short feature, Rabbit Punch, tells the tale of a teenage boy in search of a place to call home. Fourteen-year-old Job has come to Manchester from the Congo as a refugee. However, his search for a new life has come at a price. Brutalised at home and bullied at school, he can't help but lash out at the world around him. When a chance encounter leads him to his local boxing club, his life takes an unexpected turn for the better. Coaches Trav and Dylan are intrigued by this lightning-fast boy and take him under their wing. Has he finally found a new home?
Filmed and set in Manchester, Rabbit Punch was completed in early 2017 and, since then, has been distributed around various international festivals. To date, it has been selected by 8 prestigious festivals around the world, winning its first award for best Northwest short at the Bolton Film Festival.
Rabbit Punch was directed by Keith Farrell, written by Hannah Salt and produced by Phil Meachem and Leah Blakaby. Post-production was completed at Timeline North, where it was edited by Siôn Roberts in Avid Symphony. VFX work was integrated into the workflow using Blackmagic's Fusion software and the grade was completed by Stacey Cain in DaVinci Resolve. The 5.1 mix was dubbed by Richard Lee in Pro Tools. Throughout the offline, resolution was kept at a proxy DNxHD codec before being conformed back to 4K for the delivery. Part of the deliverables included a Digital Cinema Package, created internally at Timeline.
For more info, visit www.rabbitpunchfilm.com.
Find out more about our post-production services.