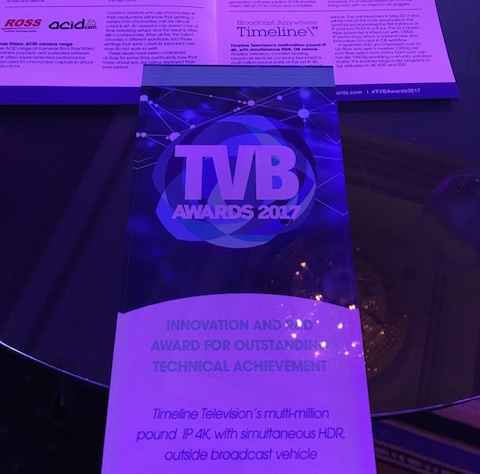 We're thrilled to have won the innovation and R&D award for outstanding technical achievement for our IP 4K, with simultaneous HDR, outside broadcast truck at the TVB Awards.
Timeline Television designed, built and launched UHD2, the multi-million pound outside broadcast truck, in May 2017. UHD2 is one of the most advanced in the world. With an Arista 100G switch at its heart and SAM IP infrastructure UHD2 delivers large scale complex OBs simultaneously in uncompressed 4K UHD HDR and 4K UHD SDR.
IP technology removes traditional SDI matrix limits enabling production teams to fully harness the power of UHD 4K. UHD 2 is based around the SMPTE 2110 standard enabling both audio and video to be processed in  the IP stream.
Read more about UHD2 here, and see all the winners and finalists.