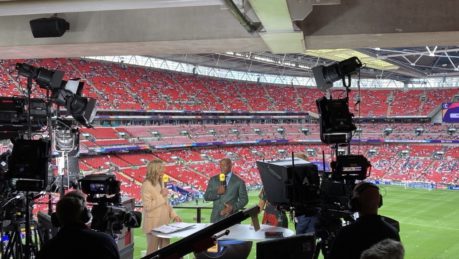 Timeline is proud to have supported Whisper on their production of the UEFA Women's Euro 2022 for BBC Sport. As part of the contract, sustainability is a significant focus for BBC Sport, and an aspect that Whisper and Timeline TV are embracing.
Read the full article from the SVG Europe below By Heather McLean, Editor
Much of the crew for the production are based at Timeline TV's broadcast centre in Ealing, London, with just two small OB trucks leapfrogging each other match to match around the UK. By the end of the tournament on Sunday 31 July Timeline TV will have covered every match for BBC Sport. Says Dan McDonnell, CEO at Timeline TV: "We will have done 31 matches in a month, while also doing the Commonwealth Games. That's quite a lot!"
McDonnell goes on: "We are working with Whisper, who is doing the BBC Sport coverage. This event [has a big focus on] sustainability. It's being done as a remote production. So we have two small OB trucks leapfrogging around the country to every single match, and they send all the feeds back to [our broadcast centre in] Ealing where we produce the BBC feed live to air.
"At the start of the tournament, we were doing two matches a day and then there was two simultaneous matches during the group stages, and then the quarter finals and the semi finals is just one match a day," he notes. "So it's been a logistical exercise with trucks rolling up to a ground, re-rigging, testing all the cameras, and then packing up and leapfrogging the other truck to go to the next game. It's been a fun project from that point of view."
Remote production logistics
Timeline TV has been working with Whisper for around six months on the production plans for the Euros. The major challenge for Timeline TV on this tournament has been the remote production aspects in terms of logistics. McDonnell explains: "It's a big operation in our Ealing Broadcast Centre. Also, for sustainability, not many crew are going to the match; everything from directors, producers, graphics, autoscript, EVS operators, engineers, sound, editors, all the production staff are all able to stay at the same location.
"We've got on the road the presenters, the commentators, camera operators, and then a small engineering team to hook it all up and send all the feedback to Ealing," McDonnell continues. "It's the most sustainable way, because if we were doing it with everybody on site we'd have big OB trucks with a lot more fuel and lots of hotel room nights. Everything starts to add up from a carbon point of view."
On sustainability he continues: "We've pushed everywhere we can. Obviously, our trucks are running on the biodiesel to reduce emissions, but we're moving as few people, as few kits as possible around the country, and keeping everybody centralised in one location."
There are around 40 staff at the Ealing Broadcast Centre, and only a handful out on the road."
Sustainable progression
On how Timeline TV's sustainable production methods have progressed, McDonnell says: "We obviously learned so much through COVID and everybody got comfortable with [remote productions]. And now, this is a good example of a major tournament working as a remote production."
Timeline TV is using its OB6 and OB8 on this production. "These are two small rigid trucks, not big triple expander trucks," notes McDonnell. "They're small trucks that are nimble and quick with low emissions, and can roll in, set everything up, and then pack up and go very quickly."
Overall there are eight cameras in each OB, which are split between the cameras within the studio and cameras around the stadium. While BBC Sport is taking UEFA's match feed, these extra eight cameras provided by Timeline TV give its viewers a unique perspective and allow its presenters and reporters to get all the flash interviews and pitch-side reporting possible.
McDonnell comments: "One innovation that we've put onto this is a 500 frames a second high-mo camera which we're working on remote production with as well. The camera records within the camera and gives us out two outputs, so the director can see the camera live all the time and use it whenever they want."
On what the camera's ability to record independently means, McDonnell says: "Back in our broadcast centre, the operator can rewind any footage that they like while always being in record, and play it out at 500 frames a second down another feed so it doesn't disturb what the director is doing. So we've been able to get really, really nice high-mo footage, but in a remote production workflow, which has been really well received."
BBC Sport has reported that viewing figures for the Women's Euro semi-final between England and Sweden on 26 July hit a peak of 9.3 million and average of 7.9 million, as the Lionesses swept the game in a 4-0 victory.