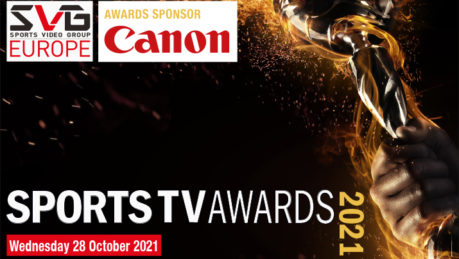 We're thrilled to have been shortlisted for the SVG Sports TV Awards 2021 in the the category outstanding Production Achievement – Innovation for our Stream Anywhere App. The Stream Anywhere App has helped major UK broadcasters' production teams film remotely from a range of locations.
After receiving nominations from all across Europe, covering many different sports and representing sport and media organisations big and small, the judges chose 31 entries across six categories that they felt had helped to push sports television forward within the 2020 calendar year.
The judges looked to reward people, organisations and projects, big or small, that have led by example, experimented, taken risks, overcome the challenges of COVID, and achieved results that can contribute to the continuing forward momentum and success of the industry as a whole.
See the full shortlist here.
Ceremony:
The Sports Production & Technology Summit incorporating the 2021 Sports TV Awards ceremony will take place on Thursday 28 October at Chelsea FC's Stamford Bridge stadium in London.
Find out more about Stream Anywhere App.