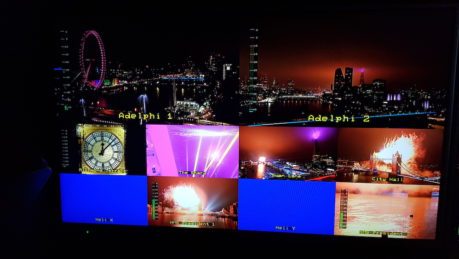 More than 10 million people celebrated the arrival of 2021 by tuning in to BBC One for London's spectacular fireworks and light display.
"The 10-minute show used 300 drones to "paint" the sky with tributes to NHS staff and notable figures from 2020.
The fireworks display spanned the length of the Thames, with fireworks launched from the O2 Arena and Tower Bridge and a light display on The Shard.
Amid the fireworks, several images filled the sky – including the NHS logo encased in a love-heart, while a child's voice said "Thank you NHS heroes".
There was a special mention for Captain Sir Tom Moore, who raised £33m by walking in his back garden. The drones formed an outline of his figure, standing behind his walking frame, and giving a thumbs-up.
Viewers also saw the clenched-fist symbol of the Black Lives Matter movement, and a humorous reference to one of 2020's most familiar sights for people who have worked from home – the icon of a microphone, accompanied by the phrase "You're on mute".
The display ended with a call from Sir David Attenborough about the need for action on climate change."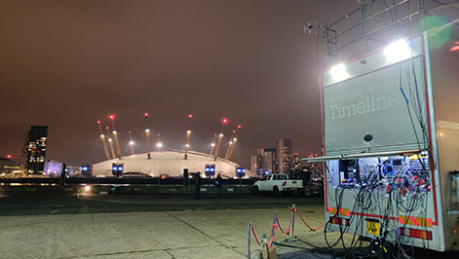 Timeline was responsible for all of the outside broadcast and RF facilities. There were three main sites from where the programme was produced.
These included St Magnus House at London Bridge, where Timeline's new flagship IP truck UHD3 was based as well as our RF uplink vehicle RF1 and RF hub truck RF 10. The second site was at Trinity Buoy Wharf, north of the O2 Arena where Timeline's large satellite and production vehicle OB16 was based. The Trinity Buoy Wharf site had to be uplinked from a secondary site at the south side of the O2 Arena due to the proximity of London City Airport.
There was also a smaller site near Wembley Stadium which had our RF truck RF3.
All three of these sites were linked together via satellite, as well as providing backup circuits to the BBC.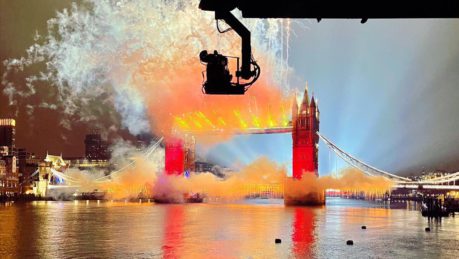 There were radio cameras on hoists, jibs and buildings feeding back to these hubs, as well as to another RF midpoint site on the roof of a building near Victoria Embankment, which in turn was linked via microwave back to the main site. All cameras had full data control to ensure the pictures matched each other perfectly.
There were feeds of audio from radio microphones on Big Ben and the Wembley Stadium roof rigged by DeltaLive as well as additional radio mics on Tower Bridge and the fireworks barge which were rigged and provided by Timeline.
The whole programme was linked by dual paths into BT Tower for the BBC.
There was a total of 350MHz of RF spectrum used for the show to bring in 2021 and showcase the spectacular ten-minute display to the viewers.
Watch it on BBC iPlayer.