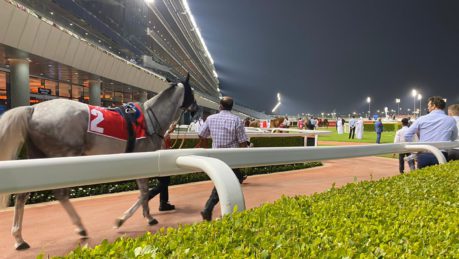 Timeline has been working alongside Racing TV and its parent company Racing Media Group (RMG) for the past five years to provide host broadcast coverage of the Meydan horse racing season.
Timeline facilities and crew support RMG's host production, course coverage and client broadcasters' needs in delivering the event – which culminates in the Dubai World Cup, the world's richest race day – to audiences around the world.
When the 2019-20 season was cut short due to the outbreak of COVID-19, and with the Dubai World Cup cancelled only days before it was due to take place, Timeline's crew had to return home.
Fast forward to seven months later and with COVID restrictions still in place, the facilities provider has transitioned Meydan Racecourse into a remote production workflow controlled from Ealing, UK. This remote workflow delivers the same level of coverage as previous seasons without the need to send a full crew to Dubai, reducing travel by about 70%.
Meydan Racecourse will host 19 race meetings for the 2020-21 season, including 11 Racing at Meydan (RAM) fixtures, where the primary focus is on local horses and trainers. In welcoming racing back to the iconic venue, there is a firm focus on the UAE government's health and safety regulations. Thorough sanitisation, thermal screening of attendees and social distancing are part of the measures undertaken by Dubai Racing Club.
"Our goal is to assist more productions over the coming years in going remote and to deliver an even greater environmental impact"
Daniel McDonnell, CEO, Timeline Television, explains: "It became clear in September that they were potentially going to have a full season starting again in November. The challenge we had was around COVID testing where staff needed a negative test within 48 hours of flying to Dubai, another similar test on return, plus 14 days' quarantine in the UK at that time. That made getting staff in and out very difficult."
Fortunately, Timeline was already remote producing events including SailGP, Formula E and a wide range of BT Sport productions.
"There are two distinct workflows for remote and a combination of both," McDonnell says. "For BT Sport we take all presentation feeds back into Stratford where we mix and add graphics. It's the same with SailGP where we take 40 to 50 sources back to London for full production. Dubai is a bit different in that we remote control the kit in Dubai from Ealing.
"Because we went from concept to completion in just a few weeks we didn't have the ability to get our own permanent fibre installed. We're using a leased connection, so we have guaranteed bandwidth of 250Mb but it's not quite enough connectivity to bring back all the cameras from Dubai to the UK."
That's not a problem, however, as Timeline's solution is to bring back multiple lower resolution but good quality multi-viewers, which allows the team to perform all operations remotely, including camera racking of 16 Sony 4300s.
"We are stitching the matrix in Dubai so we don't need to bring back all cameras. In Dubai you will see all the familiar positions; the Grass Valley Kahuna vision mixing desk, EVS and graphics, but nobody is sitting there. The only staff we have on-site are some camera and systems engineers. Everyone else, including the director, PA and sound is located in the UK. The director in our Ealing broadcast centre has a vision mixer and when they press a button it is remotely controlling the mixer at the OB.  Similarly, the EVS operator has a remote control of EVS at the OB and the sound mixer has remote control over the Calrec desk."
An EVS Cerebrum Control system enables the UK broadcast centre and the Dubai remote site to be linked together seamlessly. This has enabled the Ealing-based team to control the remote equipment from thousands of miles away.
Timeline also produces a feed for the venue's 110 metre-long trackside screen, driven by a second bank of mixers and also remote controlled from London.
"We are pioneering this type of remote production offering," says McDonnell. "We've been looking at Dubai as an obvious candidate for remote for some time because of the high cost of travel and also the environmental impact. While this has been accelerated with the impact of COVID, it has always been a long term goal of ours, in order to deliver a significantly more sustainable production."
Timeline is estimating that this Meydan Racing season alone will see a 70% reduction in flights, which equates to two million air miles and 200 tons of CO2.
"These sorts of workflows have been pushed forward by the fact that we've had to do it," he adds. "This will be a changing point for a lot of OBs; it will give productions flexibility. For example, we might decide in future that it makes sense to send the director out to the venue but not our EVS operators, or that we don't want graphics but do want the production manager on site. Each role doesn't need to be locked nor does the number of onsite roles.
"Our goal is to assist more productions over the coming years in going remote and to deliver an even greater environmental impact."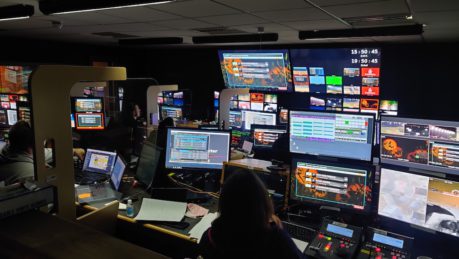 Where to watch the world's richest race 
This season at Meydan Racecourse includes 19 meetings, seven of those comprise the Dubai World Cup Carnival, an international showcase taking place on six consecutive Thursdays between 21 January and 25 February, before culminating with Super Saturday on 6 March next year. The UAE season will be topped by the historic 25th running of a Group 1 flat race, the $12 million Dubai World Cup, sponsored by Emirates.
Typically, around 40 broadcasters would cover the Dubai World Cup Carnival (around 10 fixtures beginning in the New Year) and/or the Dubai World Cup scheduled for the last Saturday in March.
Broadcasters in North and South America and the Caribbean include: NBC, TVG (US); CBC, HPI (Canada); ESPN (Latin America, Caribbean) and SportsMax (Caribbean).
Far Eastern networks include The Green Channel, Fuji TV, (Japan), HKJC TV, TVB, Cable, Now TV (Hong Kong) and Sina (China).
Africa is served by Super Sport (sub-Saharan Africa) and Tellytrack (South Africa), while Australasia is covered by Racing.com, Sky Thoroughbred Central (Australia) and Trackside (New Zealand).
European broadcasters include Match (Russia), Equidia (France), Racing TV and Sky Sports Racing (UK, Republic of Ireland), Virgin Media 1 (Republic of Ireland), SilkNet (Georgia), Arena Sport (Slovakia and Czech Republic) and TVP (Poland).
The MENA region is served by live coverage from Dubai Racing Channel and Yas TV (UAE).
In addition, Sport 24 has shown a special two-hour live programme, available on cruise liners and airlines, including title-race sponsor Emirates.