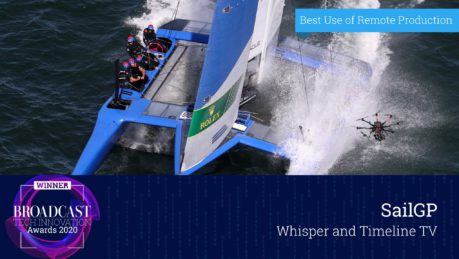 Timeline has won the Best Use of Remote Production award, in collaboration with Whisper for its coverage of SailGP – the annual pinnacle of sail racing, at the 2020 Broadcast Tech Awards.
Up against Sky Sports and BBC, SailGP's ambitious coverage of the 2019 Grand Final in Marseille and 2020 season opener in Sydney was recognised as being one of the most outstanding broadcast productions of the past year.
Since the league's launch, SailGP has delivered an innovative and environmentally considerate solution to provide high-quality and consistent TV coverage of the global racing championship.
For the 2019 Grand Final, Australia and Japan – helmed by Olympic champions Tom Slingsby and Nathan Outteridge – prepared for a winner-takes-all race in Marseille, competing for the sports largest monetary prize.
The remote production team were 700 miles away in Ealing, where they were able to deploy the key resources on-site (Heletele, two chase boats, 20 remote onboard cameras and ENG cameras) to capture one of the great sporting dramas of the year. The win was sealed by Australia and race analysis determined that the final duel came down to a mere 78 centimeters at a crucial moment on the racecourse – all captured on camera.
 All SailGP's Season 1 events – Sydney, San Francisco, New York, Cowes and Marseille – were covered from the same gallery in Ealing. Amid fluctuating weather conditions and challenging locations, up to 20 different feeds are fed from onsite cameras through fibre circuits back to the gallery, all directed remotely to produce three different language broadcast feeds (English, Japanese and Spanish).
 The ambitious project pushes the boundaries with a remote production solution that delivers its programming into over 100 broadcast territories as well as a complementary, state-of-the-art app making SailGP widely available.
Sunil Patel Whisper CEO said: "This is great for the whole team. We are always looking to push boundaries and find new ways to entertain.  
"This year Covid accelerated the move to remote production. At Whisper we have been at an advantage, having been a promoter of remote production for some time. With SailGP we ambitiously pushed creativity and delivered strong storytelling, thanks to the unique remote-production set up and the impressive combination of cameras. It's great for that to be recognised."
SailGP Chief Technology Officer Warren Jones said: "We are delighted that our remote production has been recognised by the Broadcast Tech Awards. It is a hugely collaborative effort so special thanks must go to our partners Whisper, Timeline TV, Oracle and TATA Communications in helping deliver the innovative solution."
Timeline CEO Daniel McDonnell adds: 'We're thrilled to have been recognised in the industry for our pioneering remote production solution for SailGP. Whilst the move to remote production has been accelerated this year with the impact of Covid, this has always been a long-term goal of Timeline's. With the development in technology allowing for better connectivity worldwide, our goal is to assist more productions over the coming years in going remote and to deliver an even greater environmental impact.'
Timeline uses remote production for a range of productions including Formula E, Dubai Racing, BBC Cricket highlights, Women's Super League coverage and the National League football to name a few.
Remote Production aids sustainability, reducing the number of personnel onsite. It also makes more budget available for programming and creates a more diverse workforce, by centralising production and reducing the need for overnight travel.