We're delighted to have been shortlisted for THREE Broadcast Tech Innovation Awards. The Broadcast Tech Innovation Awards spotlight the industry talent creating the television productions with the biggest impact. Winners will be announced virtually on the 25 November 2020. Judged by some of the industry's biggest names, the Broadcast Tech Innovation Awards celebrate the exceptional teams behind the most outstanding broadcast productions of the past year.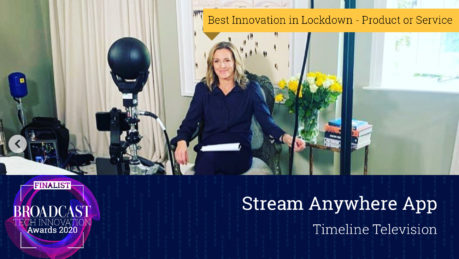 Stream Anywhere App in the Best Innovation in Lockdown – Product or Service category
Timeline developed the Stream Anywhere App, a lightweight high-quality broadcast camera solution. It allows users to stream from anywhere in the world using Timeline's new broadcast quality iPhone streaming service and produce remotely from Timeline's Ealing Broadcast Centre, their own production facility or even their own home.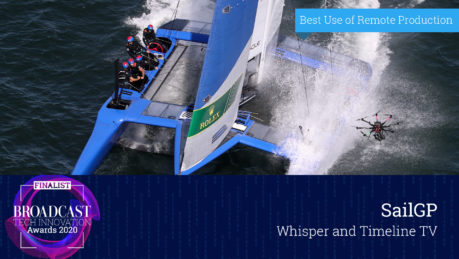 SailGP in the Best use of Remote Production category
SailGP has delivered an innovative and environmentally considerate solution to provide high-quality and consistent TV coverage of the annual global sailing championship. SailGP worked with partners Whisper, Timeline TV, Oracle and Tata to deliver this ambitious project which pushes the boundaries with a remote production solution that delivers its programming into over 100 broadcast territories.
The remote broadcast strategy enables live world feeds to be fully produced in London, up to 10,000 miles away where the action is happening. The world feed uses more than 40 video and data sources, including the award-winning LiveLine FX technology for impactful on-screen graphics and 1,200 data points derived from hundreds of sensors placed on the boats and athletes.
Key innovations in this landmark remote production include the integration of super-low latency technologies and the in-house design of bespoke equipment such as IP controlled waterproof cameras.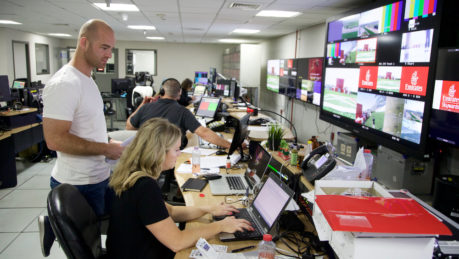 Dan Storr in the Young Talent of the Year – Broadcasting category 
Dan Storr joined Timeline in 2010 at just 19 with no prior broadcasting experience. He has since worked in a huge array of roles from Post Production to Outside Broadcasts but he really found his calling working on some of Timeline's most exciting RF projects including the 2012 and 2016 Olympics. He has led some of Timeline's key contracts including Man City and the Dubai Meydan horse racing. For the 2020 Tokyo Olympics, Dan had been working with the RF team on developing a lightweight broadcast camera system. With the event postponed, the team fast tracked the system to be used on various productions during lockdown including Celebrity Juice, Real Housewives of Cheshire, Gareth Malone the Choir and numerous BT Sport shows.
See the full shortlist here. Winners will be revealed in a virtual ceremony on 25th November at 5pm.