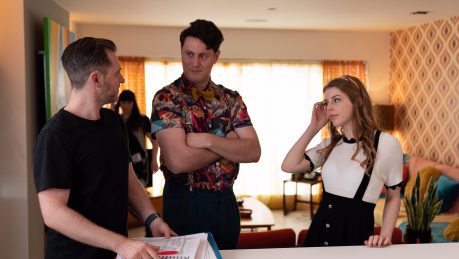 The Amelia Gething Complex is a brand-new comedy series starring online sensation Amelia Gething. The flatshare comedy was filmed at locations around Greater Manchester, including The University of Salford and Big Shed studio.
Timeline North provided post-production facilities, featuring a host of weird and wonderful special effects including wormholes, a world of talking coats, and a pineapple giving birth!
The show produced by BBC Children's Productions Ltd is now on BBC iPlayer as a box set and aired on BBC Two on 2nd November.
The Series Producer is Graham Davies, the Director is Scott Peters and the show is Line Produced by Emily Morgan.
Executive Producer and Genre Lead for Children's Comedy and Entertainment Sid Cole said: "We can't wait to see what the audience make of it. Amelia is an incredible new talent to the BBC and we're delighted to make such a distinctive and different comedy show with her taking the lead.'
Timeline North co-ordinated full post-production facilities at its hub in MediaCityUK with Mark Elliott providing the offline edit. Neil Parker graded the show on Da Vinci Resolve 15 and Sion Roberts provided finishing touches on Avid Symphony Online. VFX artist Lynn Tidsey was instrumental in the provision of special effects throughout the series. DPP file delivery was provided through Content Agent, managed by Head of Technical Chris Mann. Dubbing Mixer Dan Piggott mixed the sound in Pro Tools and the series was Post Produced by Charlotte Bell.
Read more about our post production services.