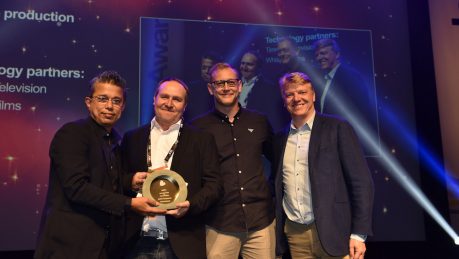 Timeline provided a remote production solution for SailGP, which was crowned the winner in the content creation category at the IBC Innovation Awards for its ambitious and ground-breaking remote production strategy. The annual awards, which took place as part of the International Broadcasting Convention Exhibition in Amsterdam, celebrate industry excellence across eight categories.
Since the world premiere in Sydney on February 15, SailGP has delivered an innovative and environmentally considerate solution to provide high-quality and consistent TV coverage of the new, annual global sailing championship. SailGP worked with partners Whisper, Timeline TV and Oracle, to deliver this ambitious project which pushes the boundaries with a remote production solution that delivers its programming into over 100 broadcast territories as well as a complementary, state-of-the-art app making SailGP available to a wide range of people.
The remote broadcast strategy enables live world feeds to be fully produced in London, up to 10,000 miles away where the action is happening. The world feed uses more than 40 video and data sources, including the award-winning LiveLine FX technology for impactful on-screen graphics and 1,200 data points derived from hundreds of sensors placed on the boats and athletes.
Key innovations in this landmark remote production include the integration of super-low latency technologies and the in-house design of bespoke equipment such as IP controlled waterproof cameras.
"We are delighted that our remote production strategy has been recognised by the IBC," said SailGP Director of Technology Warren Jones. "Special thanks to our partners Oracle, Whisper and Timeline TV in helping us deliver the solution and to everyone working on the global production of SailGP for their professionalism and dedication to delivering an outstanding product. Our aim with SailGP is to redefine the sport of sailing and this feels like we are on our way to achieving that."
The Marseille SailGP Season 1 Grand Final takes place this week, beginning Friday (September 20) and culminating with the $1 million match race finale for the SailGP Championship trophy on Sunday. Season 2 kicks off in Sydney, when it will return to the iconic Australian harbor on February 28 and 29, 2020.