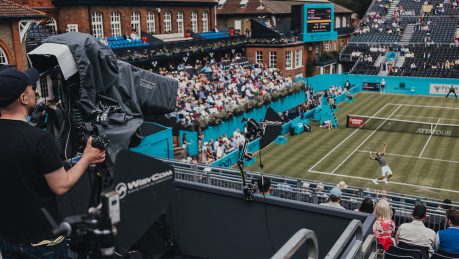 Timeline Television has been awarded a three-year contract to provide technical outside broadcast facilities for three of BBC Sport's iconic tennis tournaments. The first of these is the Fever Tree Championships, which was held 17 – 23 June. It's an annual event on the men's professional ATP World Tour which is held at West London's Queen's Club and attracts many iconic players each year. The likes of John McEnroe, Lleyton Hewitt, Rafael Nadal, Andy Murray and Marin Cilic have all played on its grass courts and the tournament has been running since 1890.
The Nature Valley International Eastbourne takes place between 23rd and 29th June 2019 and boasts a fantastic line-up of world-class tennis as a combined men's and women's event. It is a WTA Premier level and ATP 250 level tournament based at the prestigious Devonshire Park on the East Sussex coast.
The Nitto ATP Finals is an indoor tournament, running between 10th and 17th November 2019. The tournament is the end of year climax to the ATP Tour season and features only the world's best eight qualified singles players and doubles teams. The competition is in a round-robin format with the best four players and doubles teams reaching the knockout semi-finals stage. Historically held in major cities around the world, the tournament has a rich history dating back to the birth of The Masters in Tokyo in 1970. In 2009, the competition moved to its current home in London, where it will be played until 2020.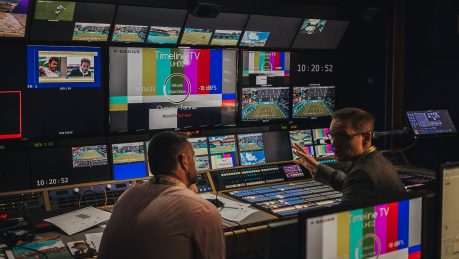 Timeline's state-of-the-art outside broadcast trucks and highly skilled engineering and technical crew will be onsite for the duration of the tournaments providing OB facilities and support to the BBC's production teams for a variety of live and highlights coverage.
Their flagship, triple expanding, IP 4K HDR outside broadcast truck, UHD2 is one of the most impressive, advanced and technically flexible OB trucks in the world. UHD2 will be on site for two of the three tournaments. Timeline's recently upgraded live 4K UHD/HD outside broadcast truck, OB16, a medium-sized, single expanding unit that can cater for 12 cabled cameras along with multiple radio cameras will be on site for the Eastbourne tournament.
Timeline's UHD HDR ready outside broadcast trucks provide a high-quality and robust solution for BBC Sport's current HD requirements but are also future focused to easily deliver UHD HDR coverage should it be required at a later date.
For more information, please visit:
https://www.lta.org.uk/major-tennis-events/british-major-events/fever-tree-championships/
https://www.lta.org.uk/major-tennis-events/british-major-events/nature-valley-international/