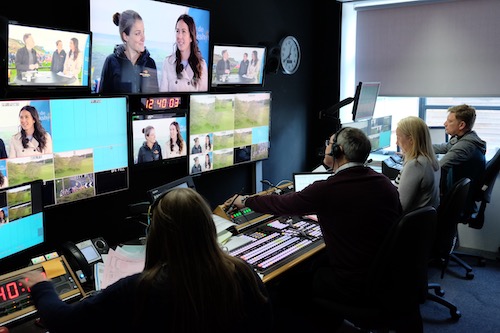 Timeline Television is delighted to be working with VSquared TV once again, providing presentation and production facilities for the fifth edition of Tour de Yorkshire.
The men's race will take place between 2-5 May and has been upgraded to HC status by the UCI. It encompasses all four corners of the county and takes in 150 villages, towns and cities along the way.
The Asda Tour de Yorkshire Women's Race meanwhile, will take place between 3-4 May meaning that for the first time ever, it will be held on a Friday and Saturday to allow more people to celebrate the race.
Timeline's outside broadcast team is providing a three-camera live presentation operation with EVS for fast turnaround of the cycling action. Back in Timeline's Ealing Broadcast Centre we are downlinking the presentation feed from our outside broadcast truck, OB16,  along with the world feed where the VSquared TV production team put together the live feed for ITV4 in one of our galleries.   We also provide a production office and two edits with a shared storage system to quickly cut together all the days excitement into an evening highlights show which is played out to air at the end of each day.
The OB operation sets up at the finish points of each stage of the race and so it moves on each night. We provide the same comprehensive facilities each day, only the scenery changes!
Watch Tour de Yorkshire live and highlights from 3 – 5 May on ITV4.