For the FA Women's Super League (WSL), the 2018/2019 season is its first as a fully professional league, so for Whisper Films and technical partner Timeline Television, delivering comprehensive, broadcast ready coverage that matched this new status was a key goal. This production contract has been the first use of a revolutionary remote production system, devised by Timeline Television, which harnesses fast internet channels to send live match footage to a central control system housed at Timeline's Ealing Studios' HQ.
The challenge for Timeline was how best to handle several OB multicam productions from various grounds around the country simultaneously during each match day, within tight budgets and without compromising on broadcast quality. "With up to four matches to cover, we needed a reliable, mobile OB system across multiple venues," begins Dan McDonnell, Timeline's MD. "However, there was literally nothing on the market that was going to give us the flexibility and scope to handle the high-quality production values we wanted without going down a route of having a full OB vehicle at every venue, so we had to build our own remote production system."
Timeline's engineers worked to develop the technology and workflows so that in the production gallery the operation has the feel of a traditional outside broadcast. Technology and workflows developed include:
• Remote camera racking is essential for high quality TV pictures and required a new innovative approach to data transmission while keeping the on-site operation as simple as possible.
• Effective communication from the production gallery to the team on the ground is essential and so Timeline developed a fully featured talkback network delivered via a mobile phone app.
• Presenters at the location need to see the programme output with minimum delay so Timeline's IP engineering team have developed a low latency streaming solution working with a portable high brightness monitor.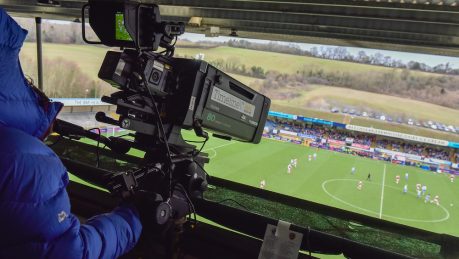 Timeline worked with Mobile Viewpoint to develop a 4G bonding & IP transmission solution in a backpack. The backpack integrates a transmitter and the camera control interface systems to deliver full functionality in a single, portable package.
Working with Blackmagic, Timeline developed an innovative system built within a Blackmagic Design camera system environment, utilising Blackmagic's open SDI camera control protocol to build a bespoke control solution.
The WSL camera package consists of eight URSA Broadcast units that can be despatched pitch-side each weekend, in a variety of set ups. "We pride ourselves on delivering broadcast quality footage for our creative partners, and we can use the URSA Broadcasts, paired with our B4 lenses, to provide high quality content for Whisper Films to produce the final match mix," continues Dan. "It's like having two cameras for the price of one, as we can track the players around the pitch with crisp and fast-paced footage from the gantry, and then produce pre and post-match interviews with brilliant close ups, with accurate skin tones and colour quality, no matter what daylight and weather conditions we're filming in."
Dan explains that each camera operator has a transmitter housed in a backpack for signal transmission back to the central control unit, allowing them to roam freely throughout the stadium to capture the action and atmosphere. "It's incredibly quick to set up – the operators switch on the cameras and backpacks, and they are ready to go, so we can quickly adapt our production plans to have more or fewer cameras at a match, dependent on the league's requirements."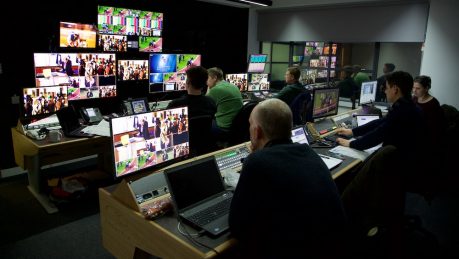 Back at Timeline HQ, the central control unit is built around the Blackmagic 3G-SDI Arduino Shield and allows an operator to have access to all of the URSA Broadcasts' features, from iris, zoom and color temperature, as well as tally and talkback. As well as the high-resolution camera signals, an additional low-res feed is also sent carrying all the camera settings. "Essentially, we've eliminated the requirement for a full, static router, which normally is in place for a camera control unit to feed through, either in a studio gallery or a physical OB vehicle on location," Dan explains. "Working over IP channels provides reliable and consistent remote signal feeds from wherever we are around the country, and this, combined with Blackmagic's open protocol has given us the flexibility to devise a high-quality remote production solution that meets broadcasters' strict standards for live sports coverage."
As for future plans, Timeline will continue to provide all the Women's Super League footage with the remote production system, but its efficiency and technical capabilities could be easily transferred to other sporting leagues, tournaments and touring events. "The ability to control an entire multicamera system via IP means that we can produce comprehensive coverage of high-profile events from anywhere in the world, without having to send a huge amount of staff or equipment out to the venues. Plus, the future rollout of 5G will support higher quality transmission and more widespread production opportunities." Dan concludes.