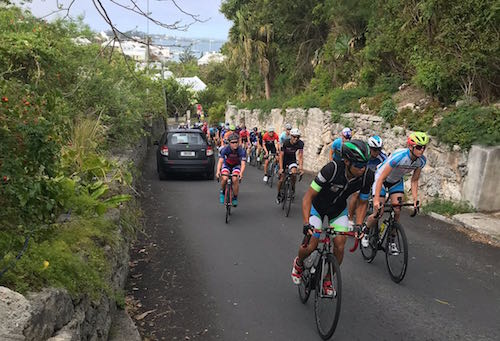 Timeline was thrilled to have worked with Lagardère Sports, a leading sports and entertainment agency, on their production of the World Triathlon Bermuda, supplying HD outside-broadcast and RF services for the host world feed production.
This was the first time the World Triathlon Series has taken place in Bermuda. On Saturday 28th April athletes took to the Olympic distance events in a unique swim in the crystal clear Atlantic Ocean, a challenging bike course over hilly terrain and a run along the picturesque Front Street in the centre of Bermuda's capital, Hamilton.
Timeline deployed a complete and integrated flyaway system on site to produce the live feed, consisting of 12 cameras, 24 EVS channels, Reidel Artist talkback, SAM Kahuna vision and Yamaha Brio audio desks, along with all the usual glue, routing and monitoring.
Utilising one of its many flyaway RF systems, Timeline provided local and midpoint RF systems for a drone and 2 motorbikes covering the entire course – provided over a terrestrially-received network. Additionally, 2 standard boat radio cameras covered the swim, as well as the start / finish and transition areas.
Find out more about the World Triathlon Bermuda here:  www.tribermuda.com
Find out more about Timeline's OB and RF services: http://www.timeline.tv