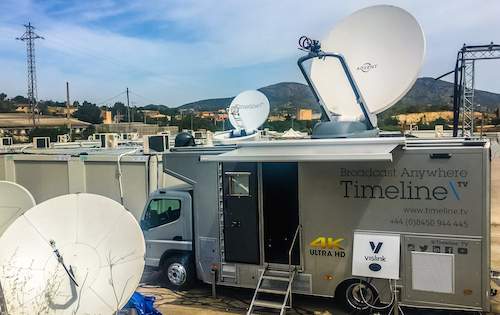 Timeline Television, a major provider of post-production, outside broadcast and studio-based programmes for every major UK network, is thrilled to announce that it has been awarded the contract to deliver RF facilities for ITV's Love Island, following the success of last year.
Production of the award-winning reality TV show Love Island, which returns to ITV2 in the summer, is fairly complex, as its two locations are separated by 3km of Majorcan countryside. The camera and gallery facilities are located at the villa itself, while the edit and production facilities are located at the other site. From a technical point of view, this presents some challenges, and Timeline are tasked with providing broadcasting facilities to connect the sites before transmitting the finished edit live to ITV2.
Timeline will use Vislink encoders, mixed by Vislink stream managers, to transmit over four different RF links at various frequencies for a complete redundant and robust cross-site link. These links will also carry internet back to the villa, to be part of NEP's DANTE audio network and to Teradek encoded monitoring feeds.
As well as the cross-site links, Timeline will again partner with Telenor to secure the satellite space before deploying RF1, Timeline's production and uplink truck, at the production site. RF1, with its second flyaway dish, enables local and remote Riedel talkback facilities, as well as ingestion and playout of the final edit over redundant satellites to ITV for live broadcast.
"After a very successful partnership with Timeline on Love Island in 2017, ITV has entered into a further contract with the option for a second year. In 2018, Timeline will provide over 180 uplink hours across the 8 week on-air period. Included in the contract is the option for a technology refresh after 12 months to upgrade inter-site connectivity to HEVC encoding," commented Steve Kruger, Technical Manager, ITV Studios.
"We're delighted to be working with ITV Studios again delivering our RF services for the popular reality TV show. ITV is pushing the boundaries of technical delivery with the challenge of the 24/7 split production sites, and relies on Timeline Television to make this complex assignment a reality. We have included the option for a technical refresh for 2019, which would see content delivered in HEVC for the first time, delivering higher quality pictures over our quad-redundant low delay cross-site links," added Timeline's Senior Broadcast Engineer Lee Wright