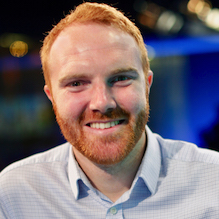 James Muir joins Timeline Television as Technical Manager. He will be based at BT Sport, where Timeline has held a managed service contract since 2013.
James previously led the studio and broadcast business at the London Stock Exchange and has built strong ties with broadcasters, global news networks and various corporate clients who use the four television studios to film 'live' and pre-recorded content. Prior to this, James was the Studio Manager at Waterloo Film Studios and Spectrecom Studios, where he oversaw the development of a new three-studio facility with 4,500 sq ft of space for television production and commercials shoots.
James commented: "I'm really excited about the opportunity here at Timeline, both with BT Sport programming and also with external production teams. I look forward to helping them get the most from the facilities here and make some great shows."
Due to new projects and growth across the business, Timeline has also recruited 14 other new staff including 6 on our first Graduate scheme.
Simon Littler, Head of Studios and Post Production at BT Sport, commented: 'We're really pleased that James has joined Timeline at this exciting time of growth. Our clients will really benefit from the wealth of experience he brings.'