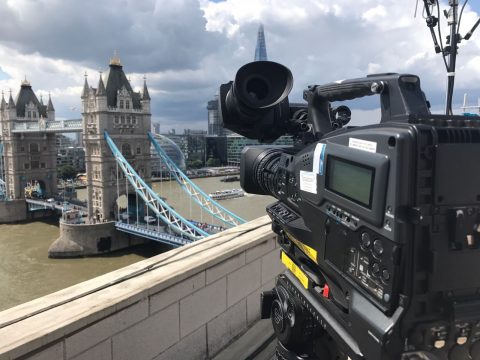 Timeline Television has been tasked with providing OB and RF services for FilmNova on the IAAF World Championships Marathon and Race Walks.
The 26.2-mile marathon took place on Sunday 6 August, starting and finishing at Tower Bridge in central London. It was set against the capital's historical and picturesque backdrops.
Timeline's Sony HDC-4300 2/3 inch Ultra HD 4K cameras with Fujinon Ultra HD lenses capture the action from the start and finish area. Timeline is also supplying four remote OB trucks to feed more cameras back to the main OB at the start. Meanwhile, three wireless motorcycle-mounted cameras, a lead car camera and a helicopter capture the action on the move. Timeline relays the links from the bikes and the car via a fixed wing aircraft, circling overhead at 25,000 feet.
All the RF facilities will be monitored and controlled from Timeline's 4K satellite and production truck, RF1. The truck provides a dual 2.4m dish facility capable of delivering multiple UHD and HD uplinks.
Timeline's IP 4K HDR outside broadcast truck, UHD2, will be on site to provide the live host broadcast coverage of the Marathon and Race Walks. This triple expanding OB facility provides ample space and an ideal production environment for such a major prestige event.
On Sunday 13 August 2017 the unique 'Festival of Race Walks' will be staged on The Mall, St James's Park. The 20km races will see athletes perform 10 laps of the course, whilst the 50km race will consist of 25 laps of the circuit.
Watch it: BBC One, Two, Red Button and BBC website and app on 6 and 13 August