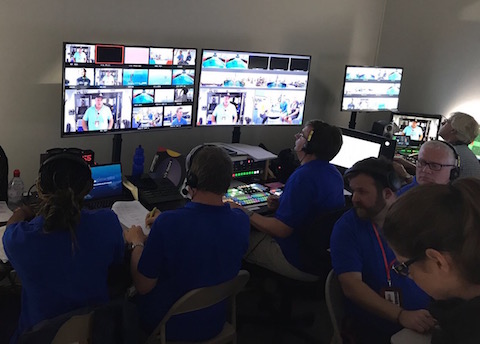 Timeline are in Bermuda providing technical facilities for Sunset + Vine and BT Sport's coverage of the Louis Vuitton America's Cup. This involves enhanced coverage of the Challenger's Cup and America's Cup Match presented by Louis Vuitton.
The technical facilities include a mobile studio, utilising two RF cameras working in the dockyard area, the main hub of the racing in the America's Cup Village.
Shirley Robertson is BT Sport's on the water presenter, reporting right in the thick of the racing action and getting up close and personal with the boats and sailors. This allows BT Sport to provide their viewers with interviews with the sailors before they step foot back on land.
This is only achievable due to the 'boat box', built by Timeline, which allows them to receive pictures from anywhere in the racing field.
The BT Sport gallery houses one of Timeline's flyaway systems. Using a flyaway allows it to be built anywhere in the world, in almost any environment, and provide full studio, gallery and production facilities. The flyaway consists of:
Sam Sirius 830 – matrix
Sam Kahuna 6400 with Maverick Mixer top – vision mixer
Yamaha QL5 – sound desk
Axon glue and outgoing line embedders
Axon Cerebrum control system
EVS LSM *2
EVS Xfile3
Cobham radio camera systems * 3
Videosys camera data
On site Timeline have two EVS's and a transfer system to allow the edits to use footage live as it comes in to give the best packages available in real time.
Timeline will be taking in multiple feeds from the host broadcasters' America's Cup TV (ACTV) to ensure the best possible coverage of racing for the BT Sport's audience.
Read more about our flyaway facilities.