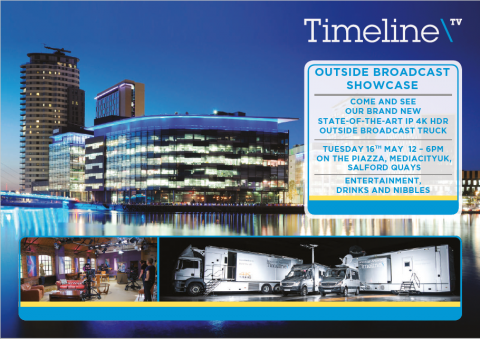 Come and see our brand new, triple expanding state-of-the-art IP 4K HDR 32-camera outside broadcast truck. Other trucks on display include Europe's first 4K UHD truck, UHD1, 4K production and uplink truck, RF1, mid-sized 4K truck, OB16, and our ultra compact truck, Streamline. The OB trucks are used on a range of programmes for the leading TV networks including BBC, ITV, Channel 4 and BT Sport.
Join us 16th May, from 12-6pm on the piazza in MediaCityUK, Salford Quays to discover how 4K IP workflows can help your production. Have a tour and demonstration from our OB team and get hands-on experience of IP technology. Book a tour by emailing charlotte.wearden@timeline.tv
Take a look at our outside broadcast fleet here.