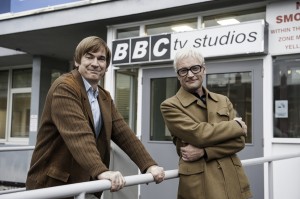 A major part of the BBC's Christmas 2015 schedule is the special one-off drama We're Doomed! The Dad's Army Story, tracing the genesis of the classic sitcom. Timeline Television provided post-production for Darlow Smithson Productions (part of Endemol Shine Group) on the 60-minute drama.
How it was done: 
The grade, by DI colourist Trevor Brown, was completed using DaVinci Resolve with the Blackmagic control surface, at Timeline's Ealing Studios branch.
A golden but not overly saturated palette was chosen for the exteriors. In many cases Trevor opted for regionalised softness to pick out items within the frame. In order to retain the smoky interiors characteristic of the 1960s, a little contrast was added by tracked windows keeping the warm palette, but occasionally swaying towards yellow and green where the narrative dictated.
The audio was mixed in Avid Pro Tools 11 by dubbing mixers Richard Lee and Dan Pigott at Timeline North, MediaCityUK, while automatic dialogue replacement (ADR) was recorded at Timeline Soho. The choice of sound effects and atmospheres added to the overall 1960s feel. Avid's 'Space' convolution reverb was used to bring the different interior locations to life, while Audio Ease's 'Speakerphone' speaker simulation plug-in was used to recreate the huge variety of 1960s televisions, projectors and other playback machines seen and heard throughout the programme.
The visual effects (VFX) were delivered to Timeline North from the post-production company Yellowmoon in Northern Ireland and cut in remotely for VFX reviews with the director in attendance in London.
The online edit was completed by Siôn Roberts on Avid Symphony.
Watch it: We're Doomed! The Dad's Army Story premieres on BBC Two on Tuesday 22 December at 9.00pm and will be repeated on Christmas Day at 10.20pm.