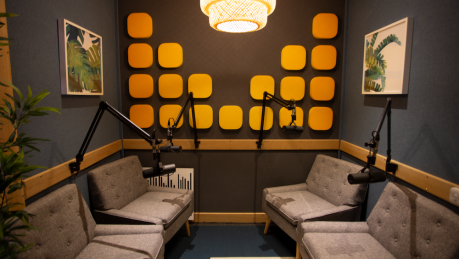 Timeline TV North has recently expanded its MediaCityUK presence, becoming the first provider to offer high-end purpose designed podcast services. This is in addition to their already established audio department, which includes full broadcast mixing, sound design, track-lay, voiceover, ADR and Source connect for remote reviewing and recording.
The introduction of International Podcast Day, held on 30th September each year, reflects the fact that podcasts are booming. With nearly 6 million adults in the UK now tuning in each week, the power of the podcast is greater than ever. Timeline is very excited to be a part of this ever-growing trend.
In early 2019, Timeline North were approached by a client to record a podcast. In order to fulfil the requirements, a temporary installation was installed in one of our dubbing suites.  The session and was a huge success and we developed the operation into a bespoke dedicated podcasting operation.
The industry-level podcast studio is built around Pro Tools ultimate software and boasts a range of microphones including Neumann, AKG, Sennheiser, DPA and Shure. The podcast suite runs on high-end hardware by Focusrite, Genelec, Avid, Yamaha, ART and Zoom.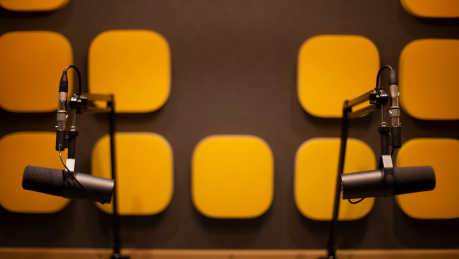 The service is already proving popular, with local businesses, a successful brand and a legendary Manchester musician. All of these projects are currently being kept under wraps, but follow Timeline's social channels for regular updates, where more details will be released soon. Find them at @TimelineTVPost on Instagram and Twitter or email north@timeline.tv for more information.
Dan McDonnell, CEO Timeline Television: 'We're thrilled to add podcasting to our suite of post-production services at Timeline North. It's a service that fits perfectly with our existing offering at MediaCityUK and we look forward to welcoming more clients on board and working across a wide range of genres.'